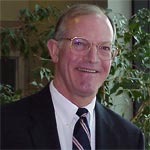 David Buxton
Most Valuable Commuter December 2003
Employer: EWU/WSU Riverpoint Campus
Occupation: Librarian
Hobbies: Reading, riding his bike and swimming
With a bus stop near his home, David Buxton finds it very convenient to ride the bus to work every day. Commute alternatives are not new to David. For the past fourteen years, he's been riding the bus, carpooling or bicycling to work.
In past years, David frequently utilized the Bikes on Buses program. This last summer though while riding his bike to work, David was hit by a car. With extensive physical therapy, this accident could have discouraged him from using commute alternatives. Instead he continues to ride the bus with enthusiasm and hopes to be riding his bicycle again next year. "Riding the bus or bicycling is much more relaxing than driving alone and eliminates worrying about traffic and parking," explained David.
A true CTR supporter, David enters all promotions and urges his co-workers to participate too. "His participation and support has been invaluable when marketing our CTR program," exclaimed Teresa Kruger, Employee Transportation Coordinator, EWU/WSU - Riverpoint.