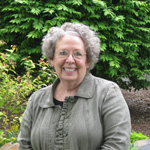 Susan Lyons
Most Valuable Commuter May 2011
Employer: EWU/WSU Riverpoint Campus

When her office moved locations two years ago, Susan Lyons, Graphic Designer and Illustrator at EWU/WSU Riverpoint Campus, was thrilled she was able to join a vanpool. With a supportive supervisor, she was able to flex her schedule and has been vanpooling daily now for two years.

With 11 people on her vanpool, she has a diverse group with employees from the Spokesman-Review, Rockwood Clinic, River City Glass and Sacred Heart. "Vanpooling has given me the opportunity to meet a lot of wonderful people I wouldn't normally get the chance to," Susan explained. "It's like a little community and we enjoy chatting and learning from each other."

Susan didn't realize how stressful driving alone was until she joined the vanpool. Now she enjoys looking out the window, watching the colors change, enjoying the scenery and she has found three different Osprey nests that she loves to watch. Norene Phillipson, a CTR Committee Member says, "With all the things she loves about vanpooling, her enthusiasm just spills over with the smile on her face when she arrives and leaves work to meet up with the vanpool group! She encourages everyone to seek a commute alternative that works for them!" Way to Go Susan!