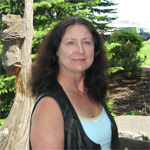 Coral Ebel
Most Valuable Commuter April 2011
Employer: Zak Designs, Inc.

With a 42-mile one way commute, Coral Ebel, Shipping Manager at Zak Designs, has been carpooling with her husband for over ten years. Working two miles away from each other and living so far away from where they work, Coral says "It just makes sense!"

She enjoys many benefits including cutting her commuting costs in half, helping the environment by cutting her emissions in half, less wear and tear on her vehicles and she loves not having to drive. Coral estimates that she saves about $300 a month by carpooling to work. And what she enjoys most is having extra time to talk with her husband.

Managing 15 employees, Coral encourages her employees to use commute alternatives and shares with them the benefits she experiences. Since many of her employees don't have computers, she hands out hard copy commute calendars and submits them to ETC, Sara Zakheim, so they are eligible for prizes. Sara proudly states, "Coral's positive attitude, commitment to the environment, and longevity in using a commute alternative prompted me to nominate her. She has been reliable and motivational to others to start carpooling as well." Way to go Coral!