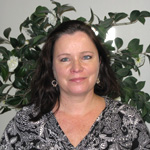 Mary Farver
Most Valuable Commuter March 2011
Employer: Fairchild Air Force Base

As an Administrative Assistant for Fairchild Air Force Base and a retired Master Sergeant, Mary Farver has been vanpooling for two years - four days a week and also working a compressed work schedule. Originally starting on a larger van, Mary realized other employees were looking for economical and easier commutes too, so she took the initiative to start a new vanpool. She is now in a smaller van with 6 passengers and has a 13 mile one way commute.

Before vanpooling, Mary carpooled and she also utilizes the bus pass she receives by vanpooling to go downtown on the weekends. "Vanpooling and riding the bus saves money and is great for Spokane's air quality," Mary simply stated. "We are lucky to live in a city with such an awesome transit system."

As the "Go to" person for the vanpool program at FAFB, employees go to Mary when they have questions and are interested in vanpooling. She administers the program, submits reimbursements for subsidies and works closely with STA staff. "Mary's willingness to start a new vanpool, help out fellow CTR participants and manage the base vanpool program is admirable," proudly said Diane Wulf, ETC. "It is dedicated individuals like Mary who continue to make Fairchild's CTR program a success." Way to Go Mary!