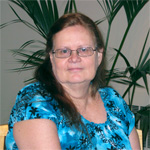 Judy Laird
Most Valuable Commuter February 2011
Employer: Inland Imaging Business Associates

When her car broke down 4 Â1/2 years ago, Judy Laird, Accounts Payable Specialist at Inland Imaging Business Associates, made the decision to not fix her car and she began riding the bus to work. Today, Judy doesn't own a car and her mode of transportation is riding the bus and walking. By riding the bus at least 60% of the time every month, she receives a 100% subsidy.

"Riding the bus is less expensive and easier," explains Judy. "I don't have to scrape windows, warm the car or worry about road conditions. Plus, I get to do things I love during my commute like reading and listening to music." With her husband in a wheel chair, Judy feels that riding the bus is much easier. The ramps make it easy to get on and off the bus and she doesn't have to load a wheel chair into a car.

A voice for her community, when Judy heard about the service reductions planned on her bus routes, Judy started a petition and attended public meetings to keep the current bus schedules in place. ETC, Danielle Griffis says "Judy is a true inspiration to other employees. She demonstrates how easy it is to make the bus really work for you." Way to Go Judy!