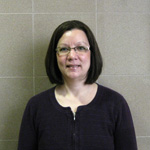 Pam Mims
All Star Coach March 2011
Employer: Northwest Farm Credit Services

As the ETC for over four years, Pam Mims, Mail Room and Record Center Manager for Northwest Farm Credit Services, promotes her CTR program to 176 employees. Walking her talk, Pam has been carpooling with her daughter for seven years. The benefit she enjoys the most is seeing her granddaughter every morning.

With strong CTR program elements, employees receive a $50 monthly incentive for using any commute alternative at least 12 times per month. Employees that participate between 5 â€" 11 times, receive a $3 incentive for every day they participate. Requiring employees to fill out their commute calendar on MyCommute to receive their incentive allows Pam the ability to oversee and gauge participation levels at her worksite. One on one communication is a key to Pam's success, along with monthly hand outs, posting information on the Electronic Bulletin Board, a guaranteed ride home program, bike racks, showers, new hire packets and utilizing a GIS map to help employees find carpool partners.

"It's very exciting when you help an employee find a commute alternative that works form them," smiled Pam. "And when they share all the benefits they are enjoying, you know you are doing the right thing." Way to Go Pam!