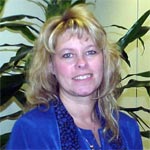 Sharon Willoughby
Most Valuable Commuter November 2003
Employer: The Spokesman-Review
Occupation: Payroll Administrator
Hobbies: Gardening and playing with her puppies
Sharon Willoughby began vanpooling her first day of work over two and half years ago. Living in Coeur d'Alene, Idaho, Sharon didn't want to put the miles and wear and tear on her brand new car. Parking costs and icy roads were also another big motivator.
With twelve full time riders from six different businesses in the downtown area, Sharon has had the opportunity to meet new friends outside of her work place. "During my payroll certification, I had an hour each way during my commute to study," said Sharon. "It saved me so much time!"
Management is also very supportive of her decision to vanpool. Scheduling meetings at least a half an hour after her start time and ending meetings a half an hour before she leaves, ensures she isn't late. "Sharon leads by example and encourages other employees to try commute alternatives," explained Kareem Wilcher, Employee Transportation Coordinator, The Spokesman-Review. Way to Go Sharon!