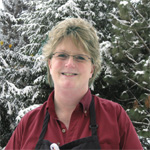 Denise Guiles
Most Valuable Commuter December 2010
Employer: Providence Sacred Heart Medical Center

Taking her first bus ride when she was six year old, Denise Guiles, Food Service Worker for Providence Sacred Heart Medical Center has been a dedicated bus rider for over 35 years. Even though she took her driver's test, Denise never felt the need to get her license and she has never owned a car. "If you don't have something, you don't miss it," Denise simply stated.

Always making sure she lives near a bus route, Denise currently has 3 different routes she can take to and from work. And, living near a grocery store makes it convenient for her to walk. Huge snow storms, open heart surgery and a sprained ankle never deterred her from riding the bus. "In my opinion, the bus is the only way to get around," smiled Denise. "I love to travel and I use the money most people use on their car expenses to travel."

Many employees go to Denise when they want to ride the bus. She is an expert at bus schedules and can help people pick the best route to meet their needs. She enjoys listening to music, seeing her "bus friends" and is grateful that we have STA in Spokane. ETC, Lori Barschig, says "Denise is such an advocate and cheerleader for STA! Her upbeat positive personality and vibrant smile doesn't just shine, it sparkles!" Way to Go Denise!