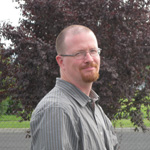 Charles Kerr
Most Valuable Commuter September 2010
Employer: Hollister-Stier Laboratories

Only owning one car for many years, Charles Kerr, Chemist at Hollister-Stier Laboratories, has been using commute alternatives for over 11 years. Living and working in Atlanta, GA and Pasadena, CA, Charles made sure he lived near the bus line and either rode the bus, walked or biked daily. When moving to Spokane in 2006, it was important to Charles to continue using commute alternatives. Working a compressed work schedule, he rides his bicycle during the summer months and rides the bus in the winter.

Interested in protecting the environment, Charles doesn't like to make short routine trips by car when there are better choices like riding the bus and cycling. "Cars are like fast food restaurants," explained Charles. "They are fast, convenient but not all that great for you." Although the bus takes him three times longer to get to work, he enjoys his time by reading books, knitting socks and talking with friends.

Charles willing volunteers for whatever he can do to help the CTR program at his worksite. He offers his assistance to anyone who has questions about riding the bus and bus schedules. He also helped during Bike to Work Week by assisting with bike maintenance and an inspection clinic for employees at Hollister-Stier Laboratories. ETC, Lesley Schmidt proudly says "Charles is one of the few employees that uses a commute alternative almost every day to work. We need more employees like Charles to help motivate others to use commute alternatives." Way to go Charles!