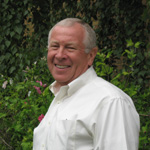 Art Dorval
Most Valuable Commuter August 2010
Employer: Avista Corporation

With a 15Â1/2 mile commute to work, Art Dorval, Technology Integration Manager at Avista Corporation, has been riding his bike to work for over six years from March - October. Riding at 5 a.m., Art enjoys a beautiful sunrise, counting how many bunnies he sees on the Centennial Trail and has even witnessed a whole herd of deer crossing the Spokane River. He marvels at how much he sees and enjoys and the fact that he wouldn't have experienced it had he been driving to work.

Art has learned to be predictable and courteous to drivers as he rides his bike to and from work. In turn, they do the same and he rarely has any problems riding in traffic. Riding with another coworker on the way home has been enjoyable and has challenged him as a bicyclist. He likes the fact that he can individually help the environment by riding his bicycle. "If you're not part of the solution, you are part of the problem," Art simply stated.

Art realizes that biking to work might not work for everyone but feels that even recreational riding is a great benefit to everyone's health. He has been successful in encouraging most of the employees in his department to ride their bike to work at least once or recreationally. ETC, Catherine Bowden says "He has such an enthusiastic passion for bicycling, everything from talking about tires to energy gel foods. He is one of the most gracious and appreciative bicycle commuters I have met." Way to Go Art!