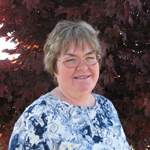 Mary Baker
Most Valuable Commuter May 2010
Employer: Fairchild Air Force Base

Working on putting a vanpool together for over four years, Mary Baker, Real Estate Officer for Fairchild Air Force Base, was finally successful a year and a half ago in forming a vanpool. Now enjoying many benefits, she can't imagine driving alone again. With a 20 mile commute, the vanpool originates in Cheney and makes additional stops in Medical Lake before reaching Fairchild.

Vanpooling is very convenient and easy for Mary. She really likes the fact that she doesn't have to heat up her car or scrape her windows in the winter. The cost savings is significant especially with a 100% subsidy from Fairchild. "It doesn't make sense to have my car on base," Mary said. "My lunch is 45 minutes long which doesn't give me time to go anywhere anyway." Although meetings are challenging due to the size of Fairchild, Mary schedules around it and uses a government car when it's available.

As the bookkeeper and back up driver, Mary continues her advocacy for the vanpool. ETC, Will Worrall, says "Mary's tireless efforts and enthusiasm resulted in a new and thriving vanpool. She has also successfully recruited a number of new rideshare participants. It is dedicated individuals like Mary who continue to make Fairchild's CTR Program a success." Way to Go Mary!