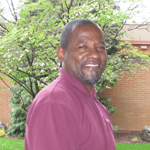 Jonathan (Jam) Vaughn
Most Valuable Commuter June 2010
Employer: Providence Holy Family Hospital

Working the night shift never stopped, Jonathan (Jam) Vaughn, Environmental Aid for Providence Holy Family Hospital, from walking to work daily for the past five years. Only living four blocks away, Jam just couldn't see starting his car and driving such a short distance. Going the extra mile, Jam also walks to meetings that are scheduled during the day at Holy Family. He admits the walk home is sometimes challenging when he's worked all night, but it doesn't stop him either.

Although he saves money and has less wear and tear on his car, what he enjoys the most about walking to work is experiencing nature at its finest. "You get to see a lot of amazing things," smiled Jam. "I love to catch a glimpse of a falling star, the shape of the moon, the frost on the trees." Watching the seasons change, trees and flowers blooming, squirrels and chipmunks playing are also things he enjoys.

Showing up looking like the "Abdominal Snowman" when it snows gets him a lot of comments from coworkers. It also gives him the opportunity to talk to employees about the benefits he enjoys. ETC, Lori Barschig says, " With his positive attitude and kind personality the interview made it very clear to me that Jam was definitely a Most Valuable Commuter for Holy Family." Way to Go Jam!