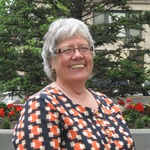 Phyllis Dunlap
All Star Coach June 2010
Employer: Inland Northwest Health Services

Walking her talk is important to Phyllis Dunlap, Accounts Payable Associate and ETC for Inland Northwest Health Services. An advocate of commute alternatives, she began riding the bus 20 years ago and when she became the ETC eight years ago, she began carpooling. Over the years, she has had many carpool partners, one from the Spokesman-Review, one from work and she found her current carpool partner by registering on RideshareOnline.com.

With strong management support and a thriving CTR program, Phyllis is continually marketing the CTR benefits to the 300 employees in her building, plus the additional 700 employees at different locations. Her program elements include Commute Connect articles in the company weekly newsletter, CTR intranet site, bike racks located in the lunch room, showers, dry cleaning services, GRH program, new hire orientation and employees who turn in their parking space receive a free monthly bus pass. Vanpoolers also receive the same subsidy as the bus riders.

Talking with an employee for about three or four months, Phyllis successfully encouraged her to give the bus a try. Once she did, she realized how great it was and wouldn't think about driving alone again. "I enjoy meeting and educating employees about their commute options," smiled Phyllis. "When I'm successful in helping them, I know I'm doing the right thing!" Way to Go Phyllis!