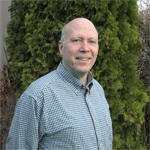 Ken Olson
Most Valuable Commuter February 2010
Employer: WA State Department of Transportation

With a 6 Â1/2 mile commute, Ken Olson, Transportation Design Engineer for WA State Department of Transportation, rides the bus during the winter months and bicycles to work from April â€" October. When moving to Spokane in August 2005, he wanted to give a commute alternative a try. His dad taught him to enjoy his journey, and riding the bus and bicycling do just that for him.

Getting exercise during his commute is also very important to Ken. When he rides the bus, he gets off the bus about two-miles from work and walks the rest of the way. During the summer months, he admits it's a much better work out when he has to bike up the 5-mile hill daily. "Conserving oil is another goal of mine," Ken said. "And, this is my way of contributing."

Another way he helps is, he frequently asks people where they live. He then suggests to them they should ride the bus or bicycle to work. By hassling them a bit, it keeps it light and fun. ETC, Jana Augenstine says "Ken thinks anyone can make a commute alternative work and he knows all the tricks like riding your bike to nearby bus stop or switching responsibilities with your spouse so you can use a commute alternative a couple days during the week. He's a great advocate for our CTR program!" Way to Go Ken!