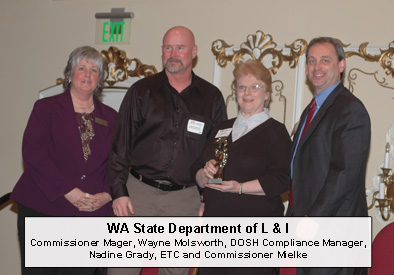 2009 Way to Go Pinnacle Award Winner
Pinnacle Award December 2009
Employer: WA State Department of L & I

Washington Sate Department of L & I has had a solid CTR program since 1993. The success of this worksite is a balanced mix of ETC support and enthusiasm, a supportive CTR committee, and sincere management support. With nearly 100 employees and limited parking, ETC, Nadine Grady takes every opportunity to promote commute alternatives to employees. Every month with the help of her three member CTR committee, Nadine changes promotional efforts by hanging new and creative flyers, sending email messages and recognizing employees who actively participate.

Another key to this employer's success is reminding employees about their CTR benefits including a $1 each way cash incentive for participants, a guaranteed ride home program, showers, compressed work week schedules, flex time and teleworking opportunities. Making a company car available for offsite meetings and a new hire orientation sheet that lists amenities such as nearby restaurants, ATM machines, daycares, banks and dry cleaners help remove barriers for employees to participate.

Another creative tactic is allowing bicyclists to store their bicycles in their work area which generates conversation among employees about bicycling to work. Educating employees and making them aware that "they can make a difference" by participating is one of Nadine's top priorities.

Showing success in April, WA State Department of L & I achieved a 100 percent response rate on their CTR surveys, and successfully attained their 2011 CTR goal with a 11 percent reduction in drive alone rates. Riding the bus five days a week, in addition to using transit for work-related trips, being recognized as an All Star Coach and successfully nominating an employee for a Most Valuable Commuter Award, Nadine Grady sets a shining example for all to follow.
On hand to receive their Pinnacle Award was Nadine Grady, ETC, and Wayne Molsworth, DOSH Compliance Manager Congratulations and Way to Go!