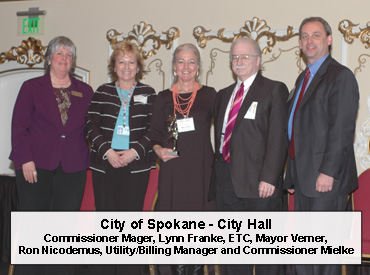 2009 Way to Go Pinnacle Award Winner
Pinnacle Award December 2009
Employer: City of Spokane - City Hall

The City of Spokane â€" City Hall has consistently maintained a well-rounded CTR program. The many benefits the nearly 400 employees enjoy are facility showers, lockers, bike racks, an internal guaranteed ride home program, compressed work week schedules, flex time and teleworking opportunities. A CTR presentation at new hire orientation informs new employees of the CTR program and also conveys the employer's support while encouraging them to find a commute alternative to get to work.

In the spring of 2009, the City of Spokane â€" City Hall capitalized on the free bicycle program being offered through the GTEC. Employees who use a commute alternative to work can now use the bicycle to go to meetings and run errands. This incentive is just another way this employer has removed a barrier for CTR participants.

Strong management support has been instrumental to this worksites growth and success over the past year. Authorizing funding for a 100 percent bus subsidy in November of 2008 has helped this employer achieve an amazing 17 percent reduction in drive alone trips and 24 percent in vehicle miles traveled. This incentive will also assist them as they move forward to maintain that goal for 2011.

In addition, the leadership and support from Mayor Mary Verner and top management at the City of Spokane was vital in the success of the GTEC in downtown Spokane while continuing to strengthen their own CTR program. The statewide credibility and notoriety received has been a positive reflection on Spokane as a whole.

A motivated ETC, Lynn Franke participates in all countywide campaigns, attends all ETC networking events and has recently joined the 2010 Way to Go Recognition Committee. A dedicated bus rider, Lynn sets a great example for employees to follow.

On had to receive their Pinnacle Award was Lynn Franke, ETC, Ron Nicodemus, Utility Billing Manager and Mayor Mary Verner from the City of Spokane â€" City Hall. Congratulations and Way to Go!!