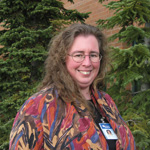 Sarah Coats
Most Valuable Commuter December 2009
Employer: FLSmidth Rahco

Between hating to drive in the winter and having multiple car problems Sarah Coats, Spare Parts Assistant for FLSmidth Rahco, decided to give the bus a try. It worked so well for her and she enjoyed it so much that she decided to get rid of her car. She now rides the bus to work four days a week and works a compress work schedule.

Sarah runs errands, does her shopping and goes to the grocery store, all on the bus! Grocery shopping was the most challenging. She changed stores and found one along her bus route. Buying a collapsible cart and only living 1 ¼ miles from the store, Sarah walks or rides the bus.
She really likes the money savings including no car payment, no car insurance, no car maintenance and not having to buy gas. "Riding the bus is a lot less stressful and I get to read a lot of books," Sarah smiled.

Another challenge Sarah overcame last year was all the snow. Buying a warmer coat and good boots to walk in the snow made it much easier. She continually talks to others about the benefits of riding the bus, how much money they can save and how simple it is. ETC, Pat Robinson says, "Her dedication to riding the bus every day to work and not owning a car is inspiring to all the staff at FLSmidth Rahco!" Way to Go Sarah!