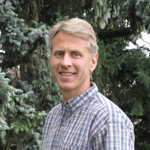 Frank Johnson
Most Valuable Commuter November 2009
Employer: Avista Corporation

With a 7 Â1/2 mile commute, Frank Johnson, Software Systems Developer for Avista Corporation, gets his exercise for the day during his commute by bicycling or running to work. About a 1 Â1/2 years ago, both his cars died and with two kids in college and one getting married, he and his wife decided to see if they could go without a car.

Running was a great option, but taking a bit longer, he decided to give bicycling to work a try. When beginning to bicycle to work, he didn't feel safe with the route he was taking. Talking with other bicyclist and enlisting help, he found a route he was very comfortable with. Now when encouraging other employees to bicycle and his focus on safety, he hooks them up with an experienced bicyclist from their area.

This year, Frank has run to work 54 times and bicycled 94 times with a goal to reach 100 by the end of the year. "When I bicycle or run to work, I really notice my energy levels are elevated for the day," Frank stated. To make bicycling and running work for him, Frank must plan ahead. He drops off two weeks worth of clothes and snacks when he is running errands on the weekend. ETC, Catherine Bowden, says "Frank's enthusiasm for using multiple commute alternatives and overcoming challenges is a shining example for employees at Avista." Way to Go Frank!