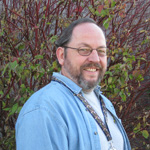 John Morris
Most Valuable Commuter October 2009
Employer: WA State Department of Transportation

Carpooling with three other coworkers daily for 3Â1/2 years and working a compressed work schedule, John Morris, Assistant Project Engineer for WA State Department of Transportation, wouldn't consider driving alone again.

Only having to drive one week out of the month, John saves money, wear and tear on his vehicle and he gets a discount on his car insurance. With many money saving benefits, John also enjoys a much more relaxing commute and the camaraderie with his carpool partners. Being flexible is key to John's carpool. Changing driving schedules is easy when someone has an appointment and needs their car for the day. And, if someone's car needs maintenance, they drop it off before heading to work. "There are so many benefits to carpooling, plus I like the incentives that are given away," John smiled.

As part of management staff, John frequently talks about the advantages of carpooling and tells employees about RideshareOnline.com during safety meetings. ETC, Jana Augenstine proudly says, ""I am so lucky to have employees like him! Carpooling to work is the same to him as breathing. And he has so much fun with it!" Way to Go John!