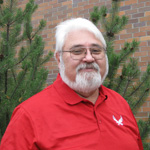 Ed McEntire
All Star Coach December 2009
Employer: Eastern Washington University

With over 2,000 employees and a large campus to cover, Ed McEntire, Employee Transportation Coordinator for Eastern Washington University, recognizes his CTR participants and gives incentives that continue to encourage them to participate.

Starting a "Life Savers Club," anyone who participates once during the month goes into a drawing for Life Savers, employees that participate 30% during the month go into a drawing for 1 of 10 smoothies, participating 50% and their name goes into a drawing for a $10 EWU Bookstore gift card, participating 75% and their name is published on the Heroes list, and employees that participate 75% of the time for three months go into to a drawing to be the Commuter of the Month and receive an acrylic star. All winners receive recognition on the EWU website which is frequently visited and noticed by other EWU employees. Culminating the year, Ed held a drawing for a $1000 Visa Card for participants that participated at least 150 times throughout the year.

With all his recognition for participants, incentive, an active CTR committee and a 100% bus subsidy for all EWU employees, Ed saw his numbers grow from 125 participants to 311! Walking his talk by carpooling for nine years daily with his wife and niece, Ed sets an outstanding example for employees to follow. Way to Go Ed!