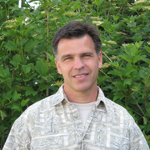 Jon Hansen
Most Valuable Commuter June 2009
Employer: WA State Department of Transportation

With a two mile commute, Jon Hansen, IT Specialist for the WA State Department of Transportation, began walking to work over 10 years ago. Walking five days a week, all year around, the only thing that stops Jon is if it's too slushy outside. Rain, snow and ice don't deter him.

When making the move to an office job, Jon felt like he wasn't getting enough exercise, so he began walking to work. It's now become a habit for Jon and he doesn't even think about driving alone to work. To save time on his way to work, Jon takes the same route. On his way home though, he takes various routes so he has new scenery and it works in additional exercise. "I keep doing it because it's good for my health, the environment and I save money." Jon simply stated.

Jon goes the extra distance by giving other employees a hard time for not using a commute alternative, filling out both of his commute calendars without any prompting from the ETC and also helping with the CTR intranet site at DOT. Thanks to Jon, his department has the highest rate of CTR participation. "He is so consistent and cheerful," ETC Jana Augenstine says. "I don't have many walkers, but even if I had a hundred, Jon would still be at the top of the list!" Way to Go Jon!