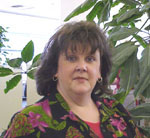 Jan Pfister
Most Valuable Commuter January 2003
Employer: Travelers Property Casualty
Occupation: Support Processor
Hobbies: Traveling
Parking costs, wear and tear on her car and saving money is what motivates Jan Pfister to carpool to work five days a week to her downtown employer. She loves the fact that she doesn't have to deal with the traffic any more either.
During a recent schedule change, Jan went the extra mile to continue using commute alternatives. She now has to leave 30-minutes early in the morning to carpool and because the afternoon schedule doesn't work with her carpooler, she waits 20 minutes to catch the bus.
"It's a habit now and it's easy for me," Jan explained. "I've met a lot of interesting and fun people riding the bus in the afternoon." With expensive gas prices and knowing the benefits to the environment, Jan enthusiastically encourages other employees to give commute alternatives a try. "Jan's diligence in making commute alternatives work for her is a shining example for all other employees," smiled Pam Flomer, ETC, Travelers Property Casualty. Way to Go Jan!