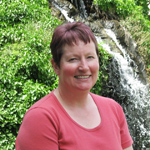 Dori Lee-Bradley
Most Valuable Commuter May 2009
Employer: Sacred Heart Medical Center

For the past 15 years, Dori Lee-Bradley, Medical Technologist for Sacred Hear Medical Center has been either vanpooling or carpooling to work. She's been on 3 different vanpools and has been with her current vanpool for the last 16 months. With a 13-mile one way commute, Dori vanpools five days a week. She initially started vanpooling to save money, but also enjoys the fact that she is helping the environment and putting less miles on her car. Not being able to stop and shop has also saved her money over the years.

With a large worksite, Dori has met many employees on the vanpool that she wouldn't normally have met. "It's fun and convenient," smiled Dori. "We don't even listen to music because we're so busy chatting."

A true advocate for the CTR program, Dori successfully encouraged her boss to start vanpooling. When her boss moved and vanpooling wasn't an option, she successfully encouraged her to walk to work. Dori also helps the ETC by collecting all the money from the vanpool riders and making the deposits. Lori Barschig, ETC says "Dori has excellent communications skills, is always willing to help out, she's a dedicated vanpooler and a true advocate for our CTR program." Way to Go Dori!