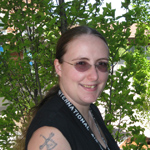 Ashley Schilling
Most Valuable Commuter April 2009
Employer: Premera Blue Cross Blue Shield

Quickly realizing how much money she saves on gas, car payments, insurance and maintenance, Ashley Schilling, Customer Service Representative for Premera Blue Cross Blue Shield, made the decision not to purchase a car. Carpooling 5 days a week and weekends too, Ashley goes above and beyond to make carpooling work for her. When she began carpooling three years ago, she would arrive 1Â1/2 hours before her shift started. With a recent shift change, she now arrives only an hour earlier. Utilizing her free time, she reads a good book and relaxes before her busy day begins.

As the carpool rider, Ashley notices something new about her surroundings every day and is delighted she has the time to notice. "I also really enjoy having someone to share the ride with and not having to make the commute by myself." Ashley stated.

Although it doesn't work for everyone, it doesn't slow Ashley down from encouraging and promoting the benefits of using a commute alternative to her fellow employees. ETC, Emily Laughlin, says "Ashley is a dedicated carpooler year around and is faithful to the CTR program. She has overcome several obstacles that I hear other people use and I'm very proud of her for taking the steps to make carpooling work for her." Way to Go Ashley!