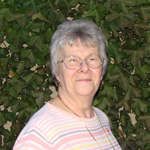 Teri Fisher
Most Valuable Commuter February 2009
Employer: City of Spokane
Occupation: Front Desk Receptionist

Only having one car and her husband needing it for work, Teri Fisher, Front Desk Receptionist for the City of Spokane began riding the bus over 23 years ago. Riding the bus to work five days a week, she finds it convenient and easy. With a 12-mile commute, Teri doesn't like the hassle of driving and traffic. In addition to riding the bus to work, she frequently takes the bus to the mall and to run errands.

Teri has met a lot of people on the bus and has formed some great friendships over the years. For the last several years, she has been on the same route with three other ladies. Just like family, she worries when they are not on the bus. Teri also loves the time she has to read books. When asked how much money she saves by riding the bus, Teri matter-of-factly stated, "I have no idea because I haven't driven to work in so long."

Realizing the bus doesn't work for everyone, Teri still encourages employees to give it a try and tells her story to hopefully spark interest. ETC, Pam Piro says "Her dedication to riding the bus and support by encouraging others to ride the bus is incredibly deserving of recognition." Way to Go Teri!