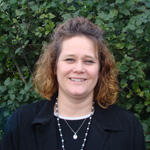 Sharma Meckelson
Most Valuable Commuter January 2009
Employer: Pitney Bowes
Occupation: Designer/Trainer

With a 28 mile one-way commute, Sharm Meckelson, Designer/Trainer at Pitney Bowes carpools to work 5 days a week. When conducting training classes at Pitney Bowes, Sharma makes a point to talk about her commute and ask questions related to commuting. Generating the conversation has helped encourage other employees to give it a try. It also helped Sharma find her first carpool partner 7 years ago.

Now, with a five person carpool, Sharma is trying to get the first vanpool started at Pitney Bowes. Going above and beyond, she has posted flyers at local grocery stores to attract riders. Enjoying the social aspect of having 5 ladies in a carpool, they share family stories, exchange meal ideas and recipes and get advice from each other. "It's my group therapy," smiled Sharma. "I have gotten to know and become good friends with my carpool partners and I never would have had this opportunity if it weren't for carpooling."

ETC, Marie Peters, says "Sharma has shown amazing determination and dedication in putting together the first vanpool. Her outstanding efforts are the reason we are so close to starting a vanpool." Way to Go Sharma!