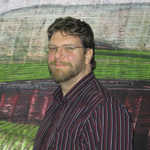 Russ Volquardsen
Most Valuable Commuter December 2008
Employer: Safeco
Occupation: Insurance Agent & Customer Service Agent

With a 14Â1/2 mile commute, Russ Volquardsen, Insurance Agent and Customer Service Agent at Safeco Insurance, rides the bus daily. Before working at Safeco, Russ rode the bus for over 5 years. When starting at Safeco, he didn't hesitate to find out what bus route would work best for him. A dedicated bus rider, Russ got his wife, son and daughter to start riding the bus. Finding it easy and convenient, they frequently go shopping and go to other fun things by riding the bus. With the whole family riding the bus, they were also able to downsize to one car.

Sometimes working late when talking to customers, Russ misses the last bus out of Liberty Lake. Instead of making the choice to drive alone so he doesn't have to worry, he has found a couple of coworkers he can catch a ride with which allows his to continue riding the bus. "I like the ease of riding the bus," explained Russ. "I don't have to worry about the commute, traffic, bad drivers and so on." He also enjoys saving money, relaxing, reading books and having some quiet time.

ETC, Al Atencio says "He displays a very positive attitude about using the bus system that others around started asking questions. Using the bus for so many other things, not just work, is inspiring to all Safeco employees." Way to Go Russ!