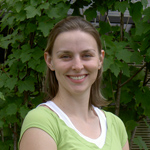 Jaida Belle
Most Valuable Commuter June 2008
Employer: General Dynamics Itronix Corporation

With a 3-mile commute, walking or rolling blade to work is great exercise for Jaida Belle, Document Controls Specialist at General Dynamics Itronix Corporation. About two years ago, she wanted to squeeze exercise into a go-go schedule and at the same time start training for a Â1/2 Iron Man contest. Then, with a 25-mile commute she would ride her bicycle or roller blade to work.

She really enjoys the outdoors and doesn't like going to the gym. "Being outdoors is refreshing and calming," smiled Jaida. "The exercise helps with my attitude and concentration." She knows if she goes one way walking, bicycling or roller blading, she has to come back the same way. At the gym, it's easier to make excuses to leave early. Being outdoors keeps her going and motivated.

Owning a Volkswagen bus, which you don't see many of those any more, employees ask her how she got to work. She uses the opportunity to talk to them about her commute and encourages them to give it a try. Other benefits she enjoys is being able to wave to other cyclists, saying hi to the kids waiting for the bus and getting gardening ideas from houses she walks by. ETC, Lois Kirk, says "Jaida is so energetic, it's contagious! She is a great example for other employees to see." Way to Go Jaida!