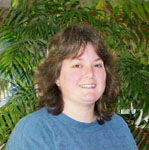 Tracy Sontrop
Most Valuable Commuter March 2003
Employer: The Spokesman-Review
Occupation: Librarian
Hobbies: Librarian
Cutting back on expenses and spending more time with her family is what prompted Tracy Sontrop to propose working from home over eight years ago. Initially she began working from home two days a week and for the past year and half has been working from home four days a week.
Tracy's biggest challenge was balancing between family activities and her work schedule. "My supervisor and the company have been very supportive," explained Tracy. "I am aware that my unusual schedule is a privilege, so I am very motivated to keep on track."
Although Tracy understands that working from home doesn't work for every one, she still talks about the advantages with other employees, as well as not being reliant on a vehicle, saving on parking costs and not having the headache of driving downtown. "Tracy is a great example of how working from home really does work for the employee and the employer," said Kareem Wilcher, ETC, The Spokesman-Review. Way to Go Tracy!