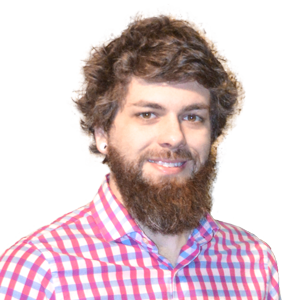 February, 1st Quarter 2018
Eric Watt, Alorica - Holley Mason

Eric Watt is an Operations Trainer for Alorica at the Holley Mason Building downtown. He started riding the bus to work 5 years ago when he lived in Redmond, WA and worked in Seattle. When Eric began working for Alorica in 2016, he realized that the cost of parking and the traffic coming into downtown was more than he wanted to deal with. When he learned that Alorica offered the Employee Sponsored Bus Passes at no charge, he decided that taking the bus into work was his best option.
Eric doesn't face too many challenges regarding his commute, except on Sundays. Working a 12:30-8pm shift, transit is limited and typically doesn't work for Eric. He coordinates with another trainer to carpool home with and if he is unable to carpool, he will drive on Sundays and take advantage of the free downtown parking.
He likes saving money that would otherwise be spent on car related expenses and he also enjoys the lifestyle that riding the bus encourages—he now walks most places.
Eric likes to encourage his fellow employees to try the bus and take advantage of the free bus pass. He highlights the benefits and encourages employees to give it a try.
An advocate for the CTR program, Eric was instrumental in helping conduct the 2017 CTR surveys. He took groups and was responsible for making sure they completed the survey and assisted them in determining the miles they traveled to work. Eric helped, ETC Maureen McElroy achieve a 96% response rate on their CTR Surveys. He also sets a great example by filling out his commute calendar on MyCommute.org too.
Way to Go Eric!