Way to Go Awards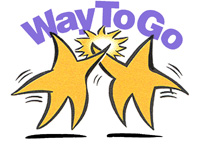 Designed by employers for employers, the Way to Go Awards is Spokane's Commute Trip Reduction Recognition Program. It aims to increase awareness and support for trip reduction efforts among citizens, managers and business leaders of the Inland Northwest. At the same time, the program seeks to promote greater use of commute alternatives by dramatizing the link between individual automobile use, traffic congestion and Spokane's air quality problems.
Spokane's CTR Champions

Individual Commuters, Employee Transportation Coordinators (ETCs), CTR Committees and Organizations are publicly recognized for their commitment to use and promote the alternatives to solo commuting. A quarterly nomination process identifies Spokane's CTR champions in the first two categories.
Spokane's Most Valuable Commuter (MVC) award will be given to one individual commuter each month. ETCs at every affected worksite and voluntary worksite will have an opportunity to nominate up to three individual commuting champions who use a specific commute alternative, during the quarterly nomination process. The Most Valuable Commuter will be selected based on a number of criteria including a demonstrated commitment to commute alternatives, frequency of use and serving as an advocate by encouraging fellow employees to discover the alternatives to driving alone.
Four Employee Transportation Coordinators will be selected to receive Spokane County's All Star Coach award, this year. During the quarterly nomination process, ETCs will be asked to complete a one-page form describing the CTR activities at their worksite over the past three months, including a proud CTR moment. In addition to serving as a record of CTR actions, the information contained on the CTR Quarterly Accomplishments form will help identify potential recipients of each All Star Coach award.
One worksite CTR Committee will be selected to receive the All Star Team award, from nominations submitted by ETCs during the final quarterly nomination process of the year. This category is designed to recognize one of the many CTR Committees across Spokane which is diligently supporting their worksite's CTR program.
Spokane County organizations which demonstrate a consistent commitment to CTR will be selected to receive the Pinnacle Award. Up to three organizations each year will be selected for this honor. Following a public nomination process, finalists for the Pinnacle Award will be identified using a variety of criteria. Organizations most closely meeting the criteria will undergo further evaluation, prior to the final selection of the award winners near the end of the year.
Decisions, Decisions
Spokane's CTR Recognition Program is built on a quarterly call for nominations. Early in March, June, September and November, each ETC will have the opportunity to identify up to three individual commuters for the Most Valuable Commuter award, and complete the CTR Quarterly Accomplishments form by submitting nominations online at MyCommute.org. The CTR Recognition Committee, comprised of twelve ETCs, will evaluate the nominations and select individuals to recognize as Spokane's Most Valuable Commuter, along with the All Star Team. Winners of the All Star Coach award will be selected based on their personal and professional commitment to CTR. Quarterly Accomplishment forms submitted during the nomination process, along with additional information gathered by the CTR Office will help determine the selection of the All Star Coach. In addition, the CTR Office evaluates and makes the final selection of organizations worthy of a Pinnacle Award.

Recognizing Success
Individual commuters who are named Most Valuable Commuter and the ETC who is named All Star Coach will receive special recognition at the next scheduled ETC Networking Lunch, or at a worksite presentation, along with a letter of recognition to their organization's top management. And, each MVC and the All Star Coach will be featured on a quarterly Way to Go poster and their story and photo will be published on the CTR website at www.MyCommute.org.
This year's CTR Recognition Program will culminate with a gala Way to Go Awards event in January, to name the All Star Team and Pinnacle Award winners and honor each Most Valuable Commuter and All Star Coach. Top management, Employee Transportation Coordinators (ETCs), elected officials, jurisdiction representatives and the local media will be invited to attend this event to celebrate another year of Commute Trip Reduction success in Spokane County!

Resources
STA Routes & Schedules - Riding the bus is easy and convenient. Find the route and schedule that works best for you.
STA Public Rideshare Info - Why put miles on your personal car, when you can put them on a STA owned van?
STA Park and Ride Lots - Don't live near a bus stop, go to the nearest park and ride and catch the bus.
Bike Map provided by Spokane Regional Transportation Council
CommuteFinderNW - find a carpool partner or join a vanpool
Telework - find out more and how to get a telework program started