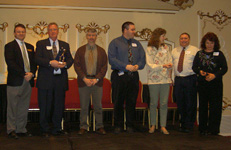 All Star Team December 2005

The 5-member CTR Committee from Veterans Affairs Medical Center was selected to receive the All Star Team award, given to one outstanding worksite committee each year. This volunteer committee works hard to promote commute alternatives at their diverse and challenging worksite. All of the members "walk their talk," which is a tremendous advantage in planning and promoting trip reduction activities. With over 600 employees and a large campus, this CTR committee is an invaluable asset to Mark Lidbeck, ETC.
Starting the year off by meeting to develop a game plan for increasing participation, the committee decided to send more e-mails, distribute pamphlets through their mail system, planned two transportation fairs and a distribution and collection system for this year's survey. With dedication and enthusiasm this CTR committee had tremendous success.
In April the ETC began the labor intensive survey process, then became ill and was hospitalized. His committee members stepped up to the plate and successfully completed the survey process with an astounding 91 percent response rate. This CTR Committee was also instrumental in starting, not one, but five new vanpools. Committee members actively assist employees in registering on the commute calendar at MyCommute.org. Their efforts have increase participation by over 40 percent from 2004 to 2005. The commitment and dedication of this All Star Team has helped spread the word about Commute Trip Reduction and it has directly impacted the success of their CTR program.